Following the explosive fallout of the leaked Supreme Court document that outlined the Court's intention to overturn Roe v. Wade, Fox News conducted a national poll that appears to show just over half of the public surveyed support banning abortions after 15 weeks. When asked how they would feel if such a law were passed in their state, just over half of voters favor it, while only 41% are opposed. (RELATED: Roe v. Wade Will Be Overturned, Per Leaked Draft Opinion)
Overall, a majority think abortion should be illegal after six weeks, while 44% disagree.  The pro-abortion numbers represent a record low. The Fox News survey is also the first time 50% of respondents said that abortion should be "illegal" in a network poll.
The poll was conducted between April 28 and May 1, 2022 under the joint direction of Beacon Research (D) and Shaw & Company Research (R). It includes interviews with 1,003 registered voters nationwide who were randomly selected from a national voter file and spoke with live interviewers on both landlines and cellphones. The total sample has a +/- 3% margin of error.
A plurality of the respondents, 43%, think abortion should be illegal except in certain circumstances, such as rape, incest or to save the mother's life.
Per Fox News:
"Americans' opinions on abortion are more nuanced than is often assumed," says [pollster Daron] Shaw. "Sixty percent think abortion should be legal, but with restrictions. The question is where to draw the line."
One interesting number that the poll revealed was that although the majority believe that abortion should be illegal, 63% of people believe that Roe v. Wade should not be overturned. This is a sentiment that has held mostly steady since 2018 when Fox first asked the question. On average, more than 60% (between 57% and 65%) say the case should remain the law of the land. Fox's newest poll finds that 27% think the case should be overturned, which is just under its typical average.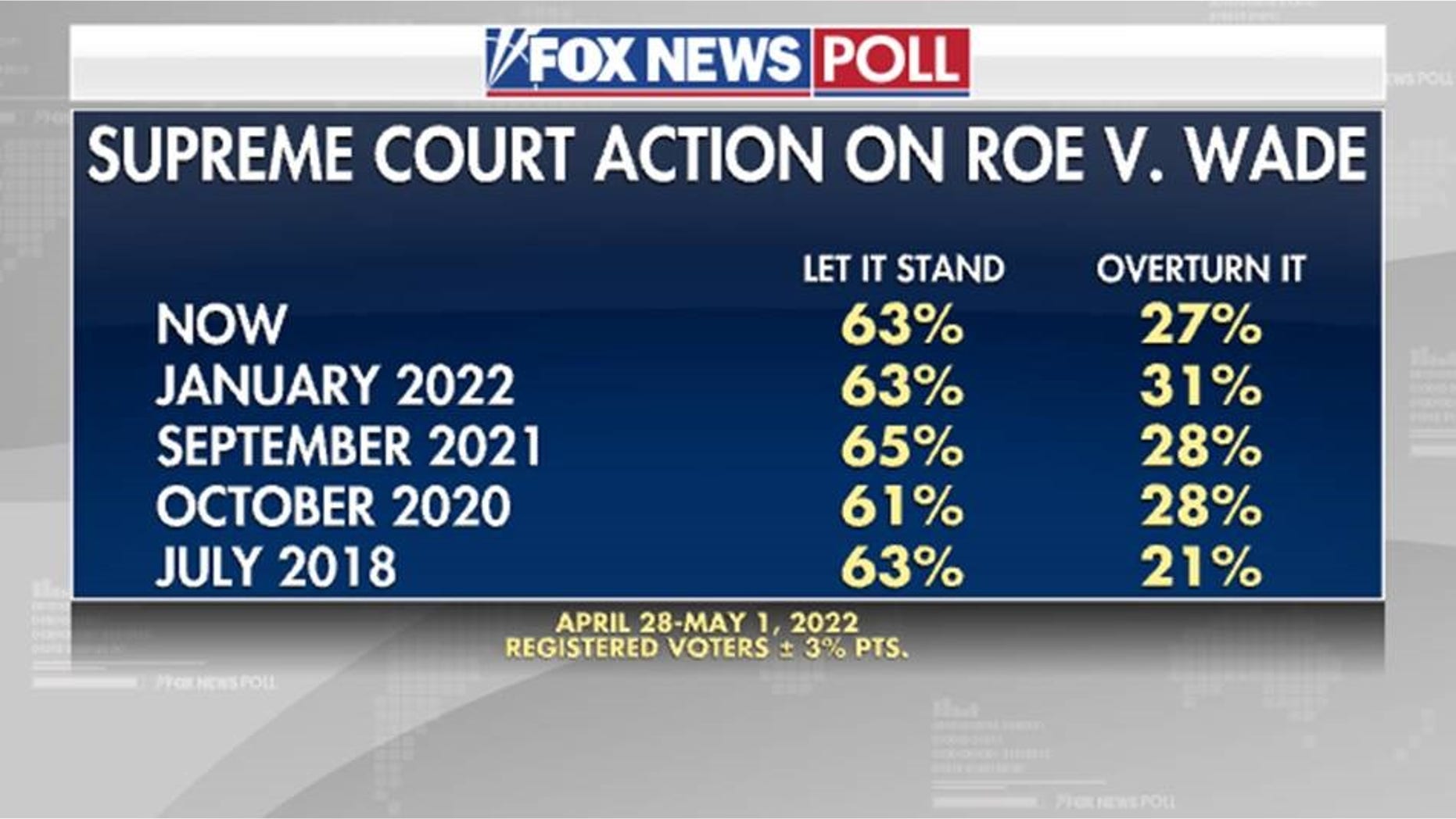 The shocking leak of a draft opinion indicating the Supreme Court may be about to overturn Roe v. Wade has thrown gasoline onto the already heated debate around abortion rights. The consequences of the leak and the repercussions of the Court's final decision will continue to shake up an already agitated electorate.
Fox News adds:
"If Roe v. Wade is overturned, it will be a hand grenade in the middle of an already chaotic political environment," says Democratic pollster Chris Anderson, whose company Beacon Research conducts the Fox News survey along with Republican pollster Daron Shaw. "There are so many potential repercussions that predictions about how this will playout in the midterms are premature."
So, what do you think? If Roe is overturned will it benefit Republicans or Democrats more in November? As always, share your thoughts with us below.
Related Posts